Women's Golf Association
Daytona Beach Women's Golf Association was founded in 1936 and is the longest continuously operating Women's Golf Association in the State of Florida. The mission of the DBWGA is to enjoy the game of golf, meet and play with women golfers who appreciate the camaraderie and recreation inherent in weekly play, and to continually increase understanding of the rules of golf within a supportive and stimulating natural environment. The Daytona Beach Golf Club provides an outstanding venue to achieve this mission.
Womens Golf Association Committee 2021-2022
Carol Barager
Sheila Barnett
Rose Feb
Midge Serignese
Jane Teresi
Donna Lampe (treasurer)
Membership Information
The Daytona Beach Golf Club @ 386-671-3508 (DBWGA Members enjoy reduced rates for golf on play days).

The DBWGA play on Thursday mornings and alternates between the North and South courses at the Daytona Beach Golf Club with the season beginning each year the last Thursday in October and concluding at the end of April. Each week's play consists of planned golf games that range from traditional to variations of well known golf formats. Tournaments are played throughout the season linked with holidays, the member-guest tournament, special events, and the club championship. The Ladies Association will also enjoy an "away" game on the second Tuesday of every month to see and enjoy other courses in the area.
Please send written inquires to:
DBWGA, 600 Wilder Blvd, Daytona Beach, Fl. 32114
Ladies Day Results
Congratulations
2022 Ladies Champion
Tamara Harrell
Red Tee Flight Winner
Nancy Collins
Score: 150
Red Tee Flight Runner-Up
Barb Dietrich
Score: 154
Red Tee Flight Winner
Nancy Collins
Score: 150
Green Tee Flight Winner
Donna Ebersole
Score: 196
April 14th ~ Par 4's Net
Green Tee Flight
1st
Donna Ebersole
Score: 39
$8.00
Red Tee Flight
1st
Place Trish Fraser
Score: 42
$9.00
2nd
Jane Teresi
Score: 43
$5.00
April 7th ~ 2 Best Balls Net
9 holes
| | | | |
| --- | --- | --- | --- |
| 1st | Donna Ebersole, Jane Teresi, Donna Lampe | Score: 68 (-4) | $8.00/ea |
2022 St Pattys Day Fun

Christmas Luncheon 2018

Thank you to the WGA for donating the proceeds from the 2018 Member Guest to the Volusia Domestic Abuse Council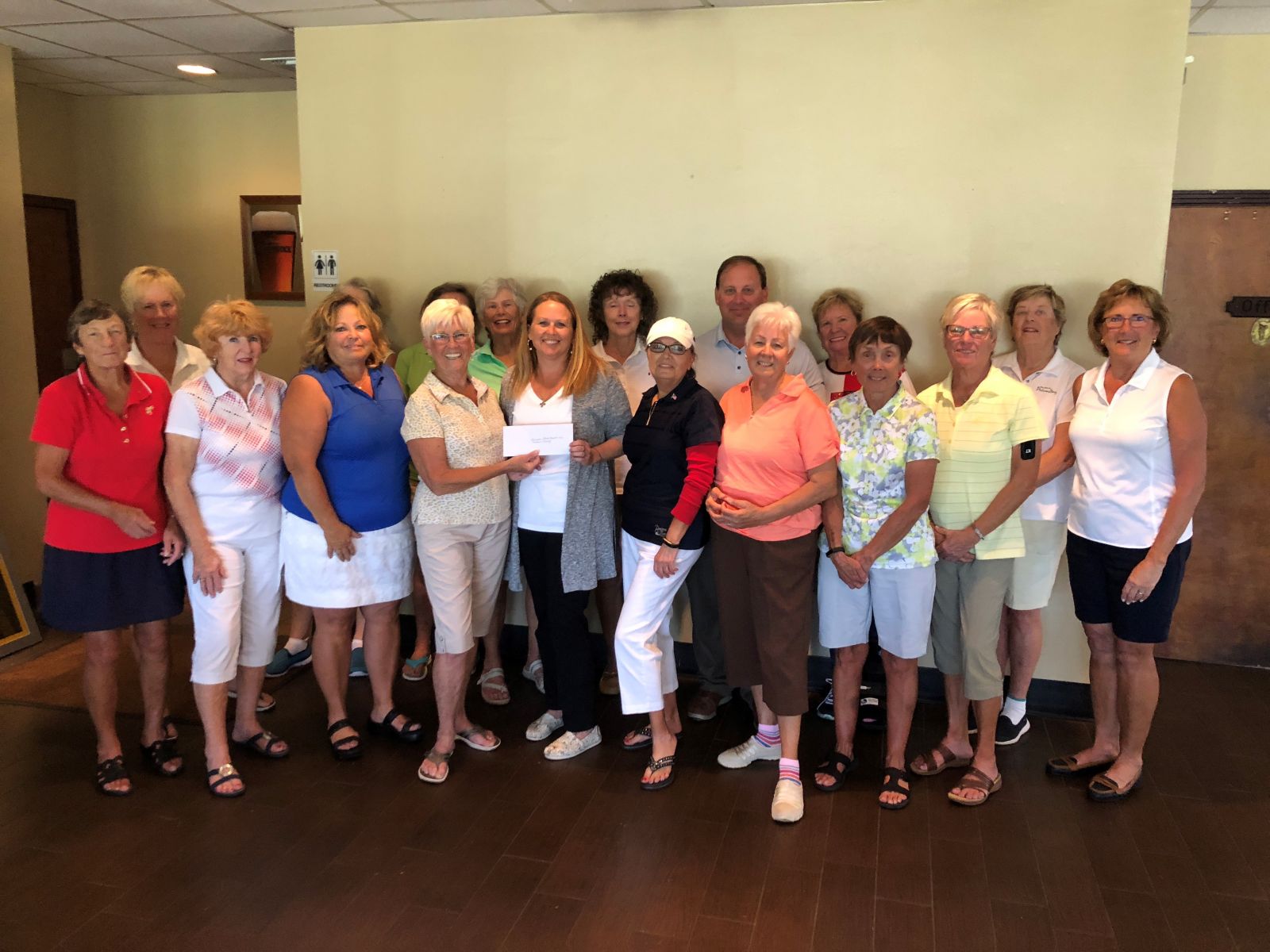 Pam Patrick, Donna Ebersole, Earlene Robert, Janet Rich, Joyce Larocque, Trish Fraser,
Jeannie Dunlop, Barb Dietrich, Jane Teresi, Martha Germaine, Carol Barager, Joan Manley, Sheila Barnett, and Mary Caracci
Thanks to Janet Rich for her clever tee box "18 shades of green". Thanks to our Master of Ceremonies and Head PGA Professional, Brian Stackpole, who loves a microphone! And thanks to our bagpiper, who led us out onto the golf course after a short cool weather delay. Roger and the WormBurners team provided a terrific ladies' luncheon, and Joyce baked cookies and cupcakes for all to enjoy.

The big winners will be the families served by the Domestic Abuse Council of Volusia County, to whom the raffle proceeds will be donated. The women and children and pets that they serve often flee domestic abuse with only the clothes on their backs. Our treasurer, Donna Lampe, will let us know how big the check will be this year. This is made possible by the effort that every WGA member made to solicit and/or donate very nice prizes and golf rounds to be given away.
Bravo, ladies! It was a great day for the Daytona Beach WGA and our guests!
Daytona Beach Women's Association Past Champions
1947
Dorothy B. Talton
1974
Eula Mae Force
2001
Linda Stratton
1948
Elizabeth H. Steele
1975
Jo Anne Garrity
2002
Lucille Crellin
1949
Barbara Hewett
1976
Shirley J. Evans
2003
Linda Stratton
1950
Dorothy B. Talton
1977
Shirley J. Evans
2004
Linda Stratton
1951
Dollie Sear
1978
Dorothy B. Talton
2005
Linda Stratton
1952
Dorothy B. Talton
1979
Shirley J. Evans
2006
Lucille Crellin
1953
Eleanor Adams
1980
Rogeanne Mulford
2007
Lucille Crellin
1954
Dorothy B. Talton
1981
Shirley J. Evans
2008
Betty Cormier
1955
Dorothy B. Talton
1982
Evelyn Moore
2009
Lucille Crellin
1956
Dorothy B. Talton
1983
Jan Koontz
2010
Lucille Crellin
1957
Dorothy B. Talton
1984
Shirley J. Evans
2011
Lucille Crellin
1958
Patty J. Baldwin
1985
Rachel Balducci
2012
Martha Germaine
1959
Opal M. Crowley
1986
Rachel Balducci
2013
Martha Germaine
1960
M. Dorothy Cogswell
1987
Rachel Balducci
2014
Martha Germaine
1961
Opal M. Crowley
1988
Katherine Harvey
2015
Martha Germaine
1962
Dorothy B. Talton
1989
Katherine Harvey
2016
Martha Germaine
1963
Dorothy B. Talton
1990
Rachel Balducci
2017
Martha Germaine
1964
Dorothy B. Talton
1991
Rachel Balducci
2018
Martha Germaine
1965
Dorothy B. Talton
1992
Rachel Balducci
2019
Martha Germaine
1966
Eula Mae Force
1993
Lucille Crellin
2020
Martha Germaine
1967
Eula Mae Force
1995
Lucille Crellin
2021
Karen Jaskolka
1968
Dorothy B. Talton
1996
Vera Charlelois
2022
1969
Eula Mae Force
1997
Vera Charlelois
2023
1971
Dorothy B. Talton
1998
Angie Pashnicki
2024
1972
Eula Mae Force
1999
Donna Ebersole
2025
1973
Eula Mae Force
2000
Nina McMeekan
2026